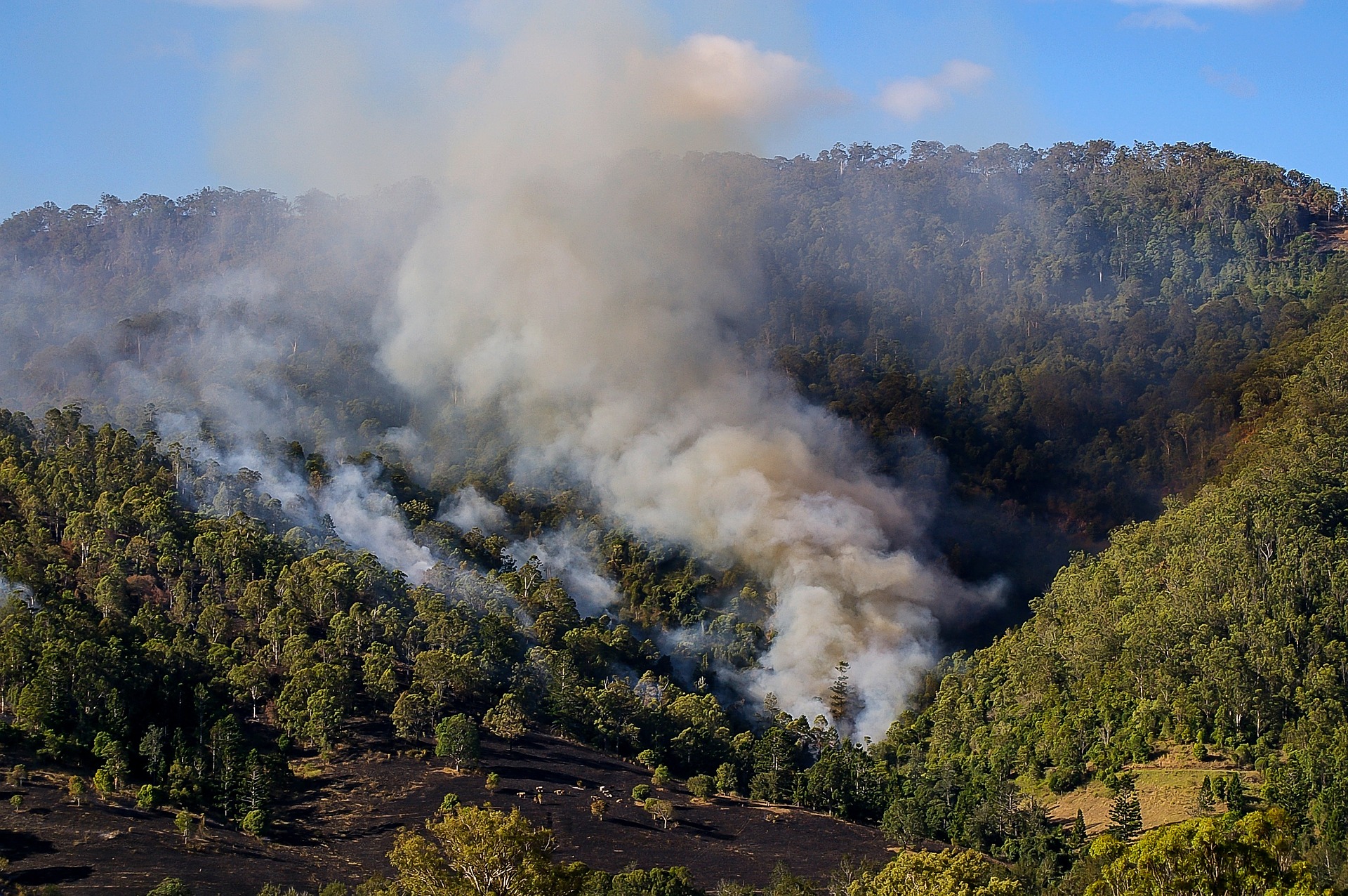 This poem was written at the end of 2019 as the fire season started in Queensland. It was extremely dry and the bush felt like a tinderbox. Everyone was nervous. Then, as I was driving home one afternoon, I saw a thin column of smoke rising in the hills to the west and knew it would be bad. By that evening the fire was raging and was all over the news. Unbeknown, at the time, was just how bad 2020 would be for the whole east coast.
BUSHFIRE
(Dragon from the West)
A white smoke column rises on the hillside to the west
and slowly, almost leisurely, it widened in its quest.
It formed a front some five miles wide as tension fills the air.
The temperature keeps rising and the winds are set to flare.
The kangaroos twitch nervously, the birds flee from the trees,
the dry dead leaves, they start to swirl and skitter on the breeze.
The smoke descends the valley and the treetops start to sway
the forecast is catastrophe, the fight is underway.
Then suddenly the fire roars and races up the crest.
A hot dry wind has summoned forth the dragon from the west.
The beast looms high above the valley, crashes through the bush,
where battle-hardened men and women start their forward push.
They hit it from the air above and douse it on the ground,
The dragon takes a backward step, regroups and skirts around.
The wind creates a firestorm, the embers, burning rain,
the dragon leaps and rakes the earth, attacks the bush again.
It shrieks atop the mighty trees, throws fire to the ground
and when it's burnt up all it can, the dragon turns around.
It races on to township homes with people forced to flee.
The fireys stay in there for that's where the fight will be.
They will not give an inch to it; they will not let it win,
they stand before that hellish beast and will not let it in.
And through the long and fearful night, the battle carries on,
until a bruised and bloodied dawn casts light on what has gone.
The beast retreats on dropping winds, destruction in its wake.
It snarls and spits from hollowed logs, there's more it wants to take.
The bushland lies in ruins with the wildlife and the stock.
The people come together and they work around the clock.
Their weary blackened faces with exhausted haunted eyes
now watch for errant breezes and they scan the empty skies.
They understand the dragon, and they pray for needed rain,
they know it's only waiting for a chance to rise again.